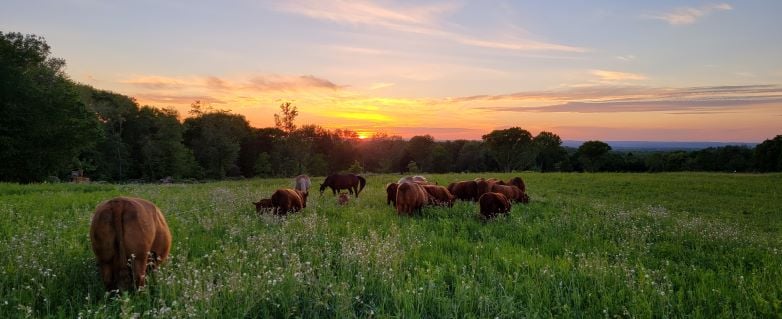 Sustaining the Land, Feeding our Future
Here at Stone Hill Farm, our belief is simple - improve our land and produce high-quality, pasture raised grassfed beef.  Our intensive rotational grazing practices not only benefit the land, it promotes animal wellness and exclusively feeds our herd of registered Red Angus and registered Red Devon cattle. Our herd is moved every 12 hours into new pasture.  The pasture they are leaving, now has the opportunity to rest, sometimes as long as 75 or more days before being grazed again.  This intentional cycle allows our soil health to improve and our grasses to continue growing.
We are raising our three children here and teaching them to love the land we call home as well as the animals in our care.  We encourage prospective farm clients to come visit the farm to see and hear first hand why we do what we do and why it is so important to us.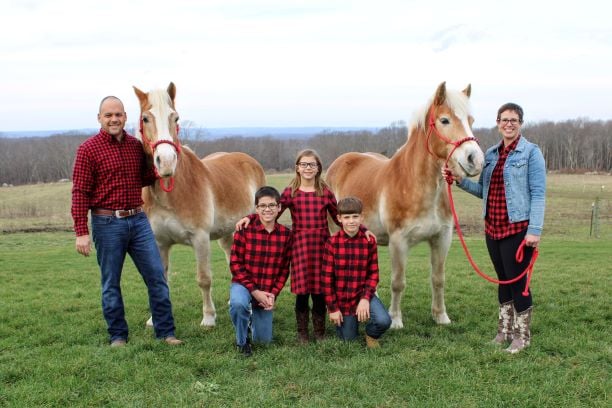 What We Offer
We strive to produce food that is of the highest standards that we only would serve to our own family.  We want to share that food with you.  Come get to know your farmer and become part of the Stone Hill Farm family!
When you order from Stone Hill Farm, you are supporting a small local business and sourcing your food close to home.  
Product Availability
Products that are currently available are indicated in each category from the product list. The quantities you see is what we have.  As orders are placed, the quantities are instantly updated.
There are no minimums.  Order as little or as much as you would like.  As you can imagine, our inventory is always changing.  We update available products as animals are processed. 
Please note, that certain products will be in higher demand as they are in limited quantity per animal.  Please plan accordingly for holiday and special occasion meals.  If you need something specific, please reach out to the farm and make your requests early. 
Almost all our products are done by weights.  Once placing items in your cart, you will see an approximate price.  This approximate price will be adjusted once your order is fulfilled by the farm with actual weights.
Pickup

an

d

Delivery
You can order from our inventory at any time from the convenience of your home or from your phone.  Once you place your order, it will be filled and an updated invoice sent with the actual pricing.  At this time, we will make arrangements for pick up on the farm.
Stay Connected
Join our mailing list for farm newsletters and important offerings.
If you have any questions or would like to schedule a visit to the farm,
email grassfed@stonehillfarmct.com
Find out more about Stone Hill Farm at our website:  www.stonehillfarmct.com 
https://www.facebook.com/stonehillfarmct